Best New Year Captions 2024: This New Year's Eve 2024 is a big one, which means you are sure to be taking tons of photos. Whether you are celebrating at a friend's virtual house party or at home with family, sharing a pic or two of your evening's festivities on Instagram or any social midea along with a killer photo caption, will help you commemorate this momentous occasion. Wihses.photos provided you The Best Happy New Year Captions 2024 for Instagram or Facebook post.
From the stylish New Year caption ideas to funny expressions that say farewell to 2023 with a sense of humor, this big list of NYE- themed Instagram photo captions will help you welcome 2024 in style — and with a whole lot of likes, too. So look no further than these 100 New Year's Eve Instagram caption ideas that are guaranteed to have your feed poppin' well before the clock strikes midnight!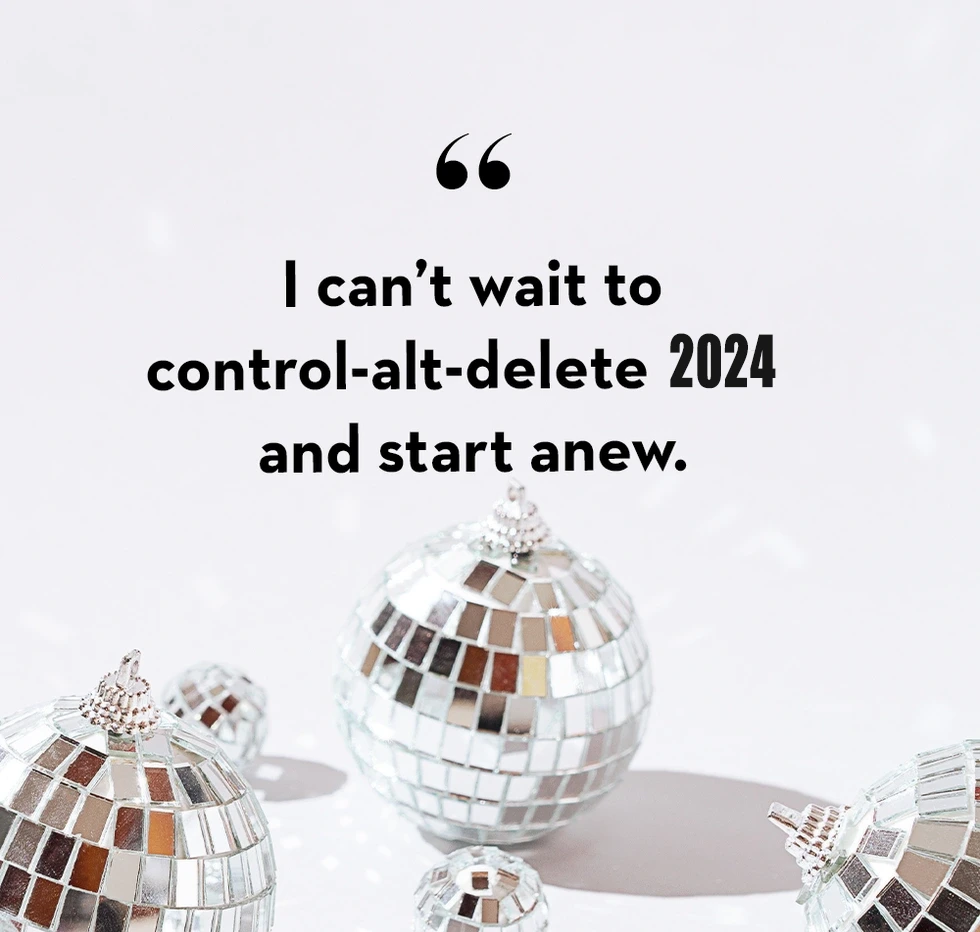 Inspirational New Year's Instagram captions
We'll get to the inspiration quote captions next, but for this section, think about how you can inspire your followers with messages related to your business niche or values.
One new year. 12 new chapters to grow. 365 new opportunities to act.
Don't share a new year resolution, share a January resolution and encourage your followers to do the same.
We did it! [Share last year's resolution and share useful takeaways/tips that helped you stay on track].
Do something you've never done before today and change the course of your entire year.
The first day sets the tone for the year. Here's how I'm starting mine.
Share a tip or idea that will come to fruition next New Year's Eve.
Announce winners for your company's core values awards and why they won them.
New Year's Eve Movie Quotes for Instagram Captions
"That's all." — The Devil Wears Prada
"A little party never killed nobody." — The Great Gatsby
"Ready? Showtime!" — The Greatest Showman
"When that ball drops at midnight—and it will drop—let's remember to be nice to each other, kind to each other. And not just tonight but all year long." — New Year's Eve
"I'm wearing the hat. Where's the party?" —Michelle Tanner, Full House
"You don't roll the dice on New Year's." — A Lot Like Love
"I never look back, darling. It distracts from the now." —Edna, The Incredibles
"Some people swear there's no beauty left in the world, no magic. Then, how do you explain the entire world coming together on one night to celebrate the hope of a new year?" —New Year's Eve
"I love that you get cold when it's 71 degrees out. I love that it takes you an hour and a half to order a sandwich. I love that you get a little crinkle above your nose when you're looking at me like I'm nuts. I love that after I spend the day with you, I can still smell your perfume on my clothes. And I love that you are the last person I want to talk to before I go to sleep at night. And it's not because I'm lonely, and it's not because it's New Year's Eve. I came here tonight because when you realize you want to spend the rest of your life with somebody, you want the rest of your life to start as soon as possible." —When Harry Met Sally
"525,600 minutes. How do you measure a year in a life?" —Rent
"Fasten your seat belts. It's going to be a bumpy night." —All About Eve
"I thought one of the perks of having a family was that you didn't have to spend New Year's Eve alone with Chinese food… I am alone with Chinese food." —Sex and the City: The Movie
"If you focus on what you've left behind, you will never be able to see what lies ahead." —Ratatouille
Funny Happy New Year's Captions
Glitter is the only option.
New year. Overdue.
See you next year.
*Sponge Bob voice* 365 days later…
*Clink Clink*
But first, we toast.
I can't wait to control-alt-delete 2023 and start anew.
A big thank you to banana bread and my sweatpants for helping me get through 2023.
9 p.m. is the new midnight.
Time to change out of my sweatpants and into my party pants.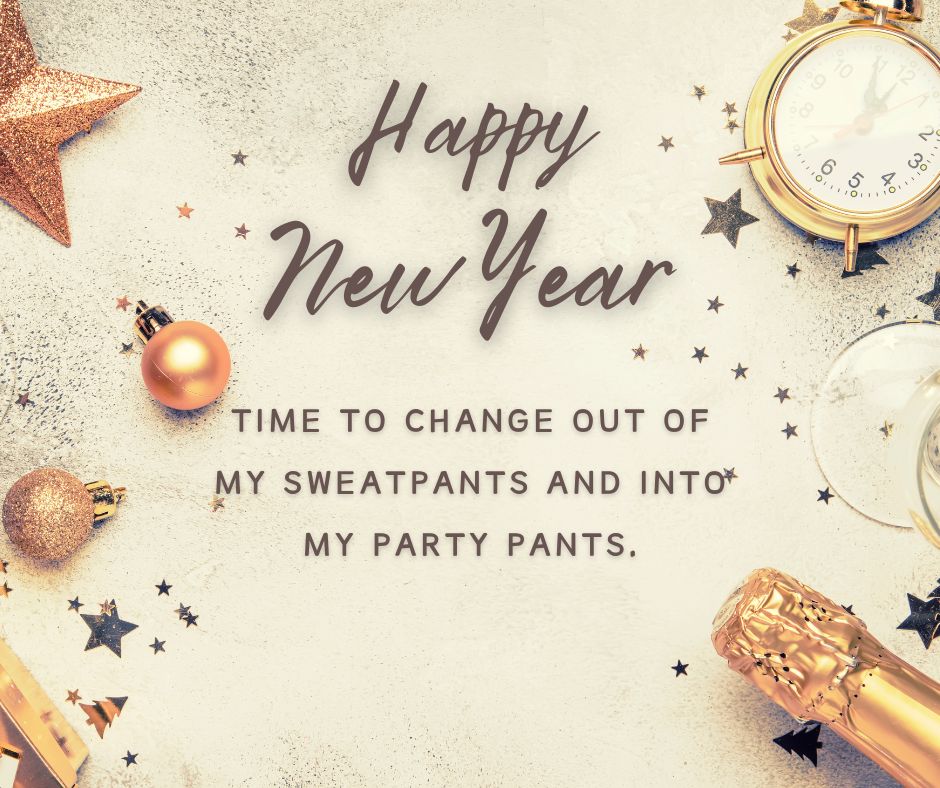 Sometimes all we need is a fresh start. And champagne. Lots of champagne.
"Thank U, Next." — Me to 2023
New year, same me.
Just here for the champagne.
Expecting a clever caption? That was so last year.
365 new days. 365 new excuses.
May all your troubles last as long as your resolutions.
I'm still the same person I was last year — now I'm just hungover.
I can't believe it's been a year since I didn't become a better person.
Save water, drink champagne.
I was going to quit all my bad habits for the new year, but then I remembered that nobody likes a quitter.
I would lose weight for my New Year's resolution, but I hate losing.
My Spotify aura is glittery.
They say goodbyes are hard but saying bye to 2023 is easy.
Toast to another year of being masked and vaxxed.
My New Year's resolution is to not have one.
2023? I don't know her.
My Spotify wrapped knows me better than I know myself.
"Too much of anything is bad, but too much champagne is just right." —F. Scott Fitzgerald
"Too much of anything is bad, but too much champagne is just right."—Mark Twain
"Start the day with a smile and finish it with champagne." —Unknown
"My vibe right now is just living life."—Kourtney Kardashian
"Come quickly, I am tasting the stars."—Dom Pérignon
"You know how I always dread the whole year? Well, this time I'm only going to dread one day at a time." —Charlie Brown, Happy New Year, Charlie Brown
I thought I got lost on New Year's Eve, but then I found the Auld Lang sign.
GOOD HOUSEKEEPING
Also Read: 400+ Merry Christmas Wishes, Messages and Greetings
One-word New Year's Instagram captions
Sometimes, the photo says it all. Do you have (or can you create) any worthy image candidates for any of these one-word captions?
Unforgettable
Epic
Yes
Now
Throwback
Pop
Do it
Bam.
Fierce
Fearless
Mood
Goals
Progress
Clink
Arrived
Cute New Year's Captions
Raise your glass!
Looking back on 2023 and feeling grateful.
Tootles 2023!
This New Year is gonna be good.
I'm ready for you, 2024.
Welcome 2024.
Walking in a confetti wonderland.
Any excuse to wear sequins!
Taking applications for my New Year's kiss.
All that glitters is … on my dress.
The best endings always have confetti.
Less bitter, more glitter.
But first, champagne.
Just here to find my Troy Bolton.
I'm ready for midnight kisses that lead to New Year's wishes.
Sparkling into the new year like …
Pop, fizz, clink.
Glitter is my signature color.
Smile, there's champagne!
Out with the old, in with the new.
Bring on the bubbly!
Walking into 2024 like …
My Spotify aura is glittery.
Money won't solve my problems, but a glass of champagne would.
I have more glitter than Libby Lu.
Glitter is a part of my 2024 rebrand.
Glitter power! Or whatever the Spice Girls said…
All that glitters isn't gold, but at least it's still cute.
Just like SpongeBob I'm ready… for 2024.
Just like Jill Scott I am living my life like it's golden.
"I'm wearing the hat. Where's the party?" —Michelle Tanner, Full House
"I want your midnights, but I'll be cleaning up bottles with you on New Year's Day." — Taylor Swift, "New Year's Day"
Also Read: 90 Happy New Year 2024 Background Images in HD
Hello 2024 New Year Instagram captions captions
On the flip side, give the new year a fun little greeting.
Nice to meet you, 2024
Welcome aboard, 2024
Oh, no no no come on in! We were just finishing 2023…
I'm ready for you, 2024.
This one's gonna be good.
Clever New Year's Captions
Did you expect a clever caption? That's so last year.
2023 really dropped the ball this past year.
Cheers to making pour decisions tonight!
The new year will be here in a Prosecco.
You were my cup of tea, but I drink champagne now.
2023, you're toast.
A New Year's resolution is something that goes in one year and out the other.
I love when they drop the ball in Times Square. It's a nice reminder of what I did all year.
New Year's Eve is the only time I have a bubbly personality.
2023 went by like a blur. My New Year's resolution must have been too low.
My New Year's resolution is to be more optimistic by keeping my cup half-full … With either rum, vodka, or whiskey.
Let's celebrate New Year's Eve by making many pour decisions.
Every New Year's Eve, I look forward to a good show at Times Square … and year after year, they drop the ball.
My New Year's resolution is 1080 pixels.
My resolution was to read more so I put the subtitles on my TV.
What did the little champagne bottle call his father? Pop!
What happened to the man who shoplifted a calendar on New Year's Eve? He got 12 months!
Why was 6 afraid of 9 on New Year's Eve? Because 9, 8, 7 …
I'm just not bubbly, but my drink will be.
Also Read: Romantic Happy New Year Messages for My Sweetheart 2024
Inspirational New Year's Captions
Let the next adventure begin.
The first day sets the tone for the entire year. Here's how I'm starting mine:
New year, new beginnings.
2024 will be my year.
12 new chapters, 365 new chances.
The best time for new beginnings is now.
May your New Year sparkle brighter than the Times Square ball.
Here's to 12 new chapters!
What's coming is better than what's going.
Page 1 of 365.
New year. New feels. New chances. Same dreams.
New year. Same me. Bigger Goals.
New Year. New Goals. Same Drive.
The New Year is about moving forward not forgetting.
Appreciative of the lessons 2023 brought and the growth 2024 will show.
"With the new day comes new strength and new thoughts." —Eleanor Roosevelt
"No matter how hard the past is, you can always begin again." — Jack Kornfield
"Cheers to a new year and another chance for us to get it right." —Oprah Winfrey
"For last year's words belong to last year's language. And next year's words await another voice." —T.S. Eliot
"Today is where your book begins. The rest is still unwritten." —Natasha Bedingfield, "Unwritten"
"There are far, far better things ahead than any we leave behind." —C.S. Lewis
"Tomorrow is the first blank page of a 365-page book. Write a good one." —Brad Paisley
"Write it on your heart that every day is the best day in the year." —Ralph Waldo Emerson
"Strive not to be a success, but rather to be of value."—Albert Einstein
"Don't go through life, grow through life." —Eric Butterworth
"Every day is a new opportunity to begin again. Every day is your birthday."—Dalai Lama
"You're off to great places! Today is your day! Your mountain is waiting, So get on your way!"—Dr. Seuss
"Every day is a new day, and you'll never be able to find happiness if you don't move on."—Carrie Underwood
"We do not remember days, we remember moments"— Cesare Pavese
"Life is a progress, and not a station."—Ralph Waldo Emerson
"The best is yet to come." —Frank Sinatra
Also Read: 500+ New Year Wishes and Messages 2024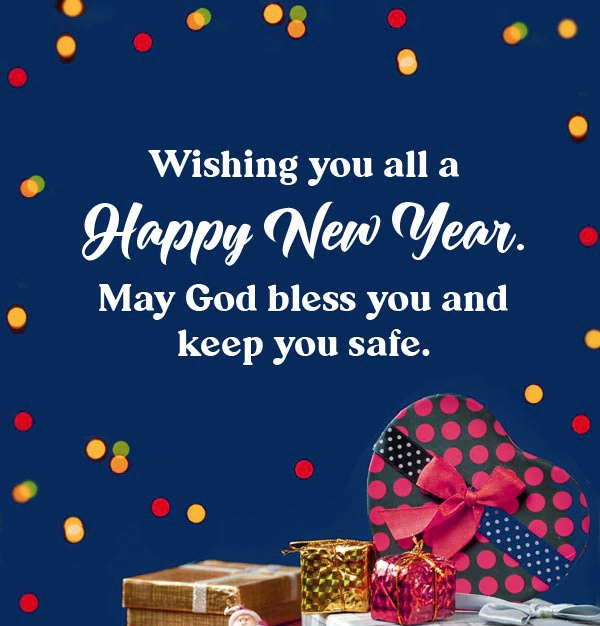 New Year Captions for Facebook
Have a sparkling New Year!
May the new year bless you with health, wealth, and happiness.
Cheers to the New Year! May 2024 be an extraordinary one.
May the New Year bring you happiness, peace, and prosperity. Wishing you a joyous 2024!
Happy New Year! I hope all your dreams come true in 2024 – onwards and upwards!
Wishing you and yours health and prosperity in the new year.
Have a crazy, rocking, exciting, and magical New Year!
Each year I spend with you is the best one yet! Here's to making more memories in 2024.
Wishing you a year that's promising, exciting, inspiring, and full of fun! Happy New Year everyone!
Happy New Year! I hope all your endeavors in 2024 are successful.
May the Lord bless and shower you with a great future. Happy New Year!
Wishing you a fresh start with renewed energy and confidence throughout the New Year.
Happy New Year! Let's toast to yesterday's achievements and tomorrow's bright future.
Wishing you all good health, more money, inspiration, and everlasting Joy.
May Lord showers you with blessings as we enter the New Year 2024!
Hope smiles from the threshold of the year to come, Whispering 'it will be happier.
Wishing you a happy New Year as beautiful moments, Treasured memories, and all the blessings A heart can know.
We'll either tackle our dreams or end up in a wreck – either way, let's meet the new year head-on.
Wishing you a New Year sparkling with fun and high spirits. Have a wonderful New Year!
It is time to forget the past and celebrate a new beginning. Happy New Year.
Free yourself from sadness and frown for the New Year has finally come to town. Have a happy and healthy New Year!
May your New Year arrive with hope and a bag full of blessings. Have a prosperous and healthy New Year!
The newness of this year inspires me to greet you, for all great things have begun anew. Best New Year wishes!
Cut it loose and let 2023 go. Get Hold of 2024 and just play along. Happy New Year
May 2024 be your year of success and triumph in love, money, and happiness. Your time is now!
Wishing you a super-duper extra luck Happy New Year! Here's hoping that all your dreams come true.
Another fresh new year is here. Another year to live. To banish worry, doubt and fear, to love and laugh and give.
May you always be surrounded by hope and guided by the stars? Have a prosperous New Year!
Conclusion:
I hope you like Best New Year Captions 2024 for Instagram or Facebook.. If You feel helpful in these Best New Year Captions 2024 for Instagram or Facebook., then please share this article with your friends and family.