In the spirit of gratitude and togetherness, crafting the perfect Thanksgiving invitation message can set the tone for a memorable celebration. Whether you're hosting a traditional family dinner or a casual Friendsgiving gathering, finding the right words to convey your warmth and enthusiasm is essential. In this article, we'll explore a variety of Thanksgiving invitation messages and wording ideas to help you extend a heartfelt welcome to your loved ones.
Thanksgiving Invitation Messages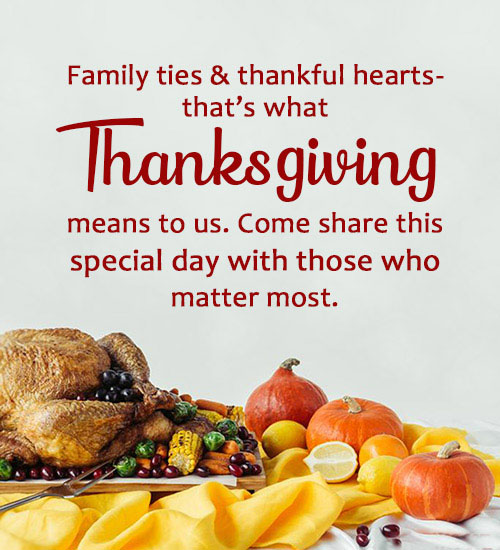 Read:Happy Thanksgiving Messages & Quotes
Let's celebrate the season of thanks! Inviting you for a Thanksgiving meal that's more than food—it is a joyful reunion of friends and family.
As autumn's beauty surrounds us, let's gather for a Thanksgiving Day that celebrates friendship, family, and the blessings we share. Please come and make our celebration complete.
Join us in giving thanks and sharing joy this Thanksgiving! Your presence would make our celebration complete.
You are invited to a Thanksgiving dinner filled with warmth and wonderful conversations. Let's embrace the spirit of gratitude as friends and family unite. Your presence truly matters.
Please join us for Thanksgiving dinner at our home on (time) (place). We would love to have you!
Gratitude is best when shared. We invite you to our Thanksgiving feast to celebrate blessings and create cherished memories together.
Gobble up some gratitude! Join us for a friends and family get-together that's as inviting as a warm embrace. You can turn our gathering into a celebration of togetherness.
Warm wishes! Join us for a Thanksgiving feast where friends and family gather, laughter fills the air, and grateful hearts come together. Your presence adds to the joy we are thankful for.
We're having a casual Thanksgiving potluck at our house this year. You're welcome to bring a dish to share and your appetite to enjoy !
Thanksgiving Party Invitation Messages to Friends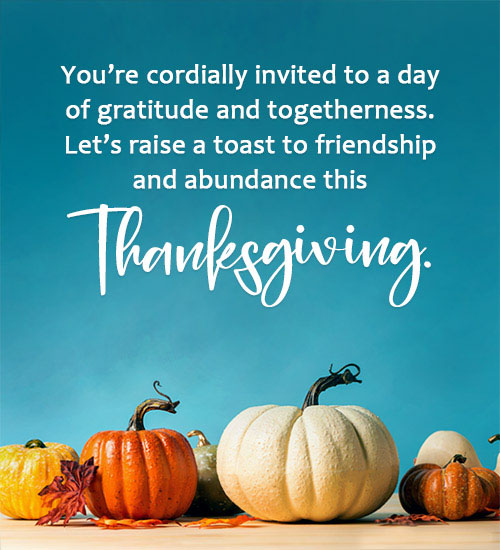 Friendsgiving delight awaits! We are throwing a Thanksgiving party where joy multiplies as friends gather. Your presence adds the perfect blend of laughter and camaraderie.
Hello friend, ready to celebrate? Come to the Thanksgiving party, where good food, great conversations, and unforgettable moments come together. Your presence makes it special.
Let's raise a toast to friendship! Join us for a Thanksgiving party where laughter flows, memories are made, and bonds are celebrated. Your company brings extra cheer.
You're cordially invited to a day of gratitude and togetherness. Let's raise a toast to friendship and abundance this Thanksgiving.
Turkey, treats, and terrific friends – that's the recipe for our Thanksgiving party! Come to this festive evening that's sure to warm hearts and create lasting memories.
Friends are the spice of life, especially at Thanksgiving! Join us for a party where delicious food and delightful friendships take center stage. Your presence is the secret ingredient.
Thanksgiving Dinner Invitation Messages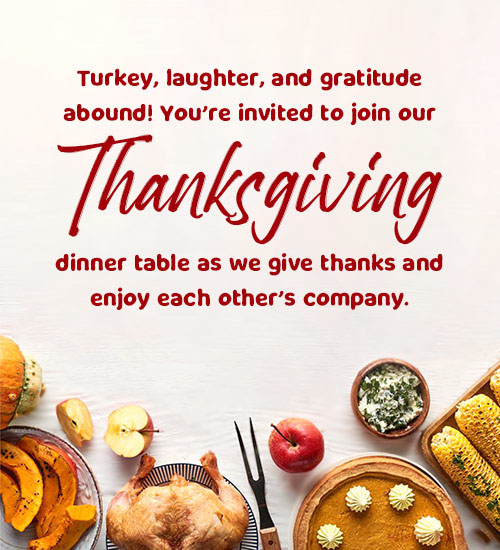 As autumn leaves fall, join us for a Thanksgiving dinner that warms hearts and brings joy. We hope your presence at our table as it adds an extra layer of gratitude and togetherness.
This Thanksgiving, let's gather for a cozy dinner filled with love and laughter. You add a special touch to our celebration of family, friendship, and blessings.
A seat is reserved for you at our Thanksgiving dinner table. Inviting for a dinner of flavors and heartfelt conversations that make the holiday truly special.
Join our Thanksgiving dinner, where food becomes an expression of love and gratitude. Your presence enriches the celebration as we gather to create lasting memories.
As we give thanks, we invite you to a Thanksgiving dinner that's more than a meal—it is a gathering of hearts and a canvas of love and togetherness.
Turkey, laughter, and gratitude abound! You're invited to join our Thanksgiving dinner table as we give thanks and enjoy each other's company.
Thanksgiving Invitation Text Messages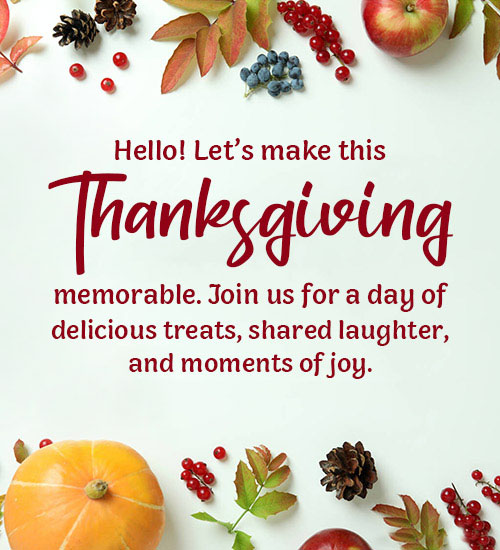 Ready to celebrate? It is Thanksgiving time, and joy and gratitude are on the menu. Your laughter and warmth are the secret ingredients that make it even better!
Hey there! Turkey time has arrived, and you are invited to our Thanksgiving celebration. Come, be part of the special day and share in the joy!
Thanksgiving is all about togetherness and gratitude. Join our festive gathering where good food and great company await. Your company adds that extra touch of warmth.
Hello! Let's make this Thanksgiving memorable. Join us for a day of delicious treats, shared laughter, and moments of joy.
Gather around for a day of friendship and thankfulness. You are invited to a Thanksgiving gathering where good company and gratitude are the stars.
Thanksgiving Invitation for Family
Family is where the heart finds its home. As autumn's beauty arrives, so does the time for family togetherness. Let's celebrate this Thanksgiving together.
Hey, dear family! Thanksgiving is knocking and our table won't be complete without you. So please do not miss out on the mix of yummy food and heartwarming moments.
Family ties and thankful hearts – that's what Thanksgiving means to us. Come share this special day with those who matter most.
To our amazing family, you are the missing ingredient to our Thanksgiving celebration. Let's gather, share stories, and create memories over a delicious feast. Your laughter and love make it complete!
Calling all family stars! Thanksgiving is near, and it won't shine bright without you. Let's gather, feast, and give thanks together. See you at the table!
Our family tree is missing a branch without you this Thanksgiving. Family is the heart of Thanksgiving, and you hold a special place in ours. Come, and be part of the festive feast.
Conclusion:
In conclusion, Thanksgiving invitation messages are a warm and inviting way to bring loved ones together to celebrate gratitude and togetherness. Whether it's a traditional family gathering, a friends' feast, or a virtual celebration, these messages set the tone for a memorable Thanksgiving gathering filled with love and appreciation.