Marriage is a new beginning, an exciting trip, a new adventure for every couple out there. The wedding day is as special as it gets, and the company of the loved and dear ones makes the form more wholesome! If one is holding a religious marriage, wedding prayer is a significant part of the affair. The bride and groom need genuine prayers and sincere blessings to start their new life with a strong foundation and goodfaith.However, check the coming section for compleat wedding prayers! If you're looking for words of blessings for the marriage of a couple.
Wedding Prayers and Blessings
We thank you for the gift of marriage, and for the blissful journey that awaits us! Dear God, be our guardian through each new step!
Dear Lord, guide us as we chase boldly after your purpose for our life together. May you use our marriage to fulfill your will. In Jesus' Name, Amen.
You two are a match made in heaven, a pair blessed by Jesus Christ! May your wedding paves the way to happier, brighter, calmer days!
Thank you, Lord Jesus, for bringing my other half to me and making me complete. I see my joyful present and blissful future with this person! As we vow for eternities and exchange rings today, we seek your abundant blessing on our union! May you enrich our married life with love and laughter!
Dear newlyweds, you belong to each other now! I pray that this union brings glory to your lives, happiness to your family, and joy to your home! May the rest of your days be full of peace, prosperity, and power! Stay strong, stay together – for the rest of your lives!
Rejoice in your love for each other! God bless this marriage and may your love for each other continue to grow.
Dear God, thank you for the joys you have brought into my life, and for all the happiness to come! May this glory last forever!
May your love grows stronger each day as your life fills with happiness, peace, and serenity!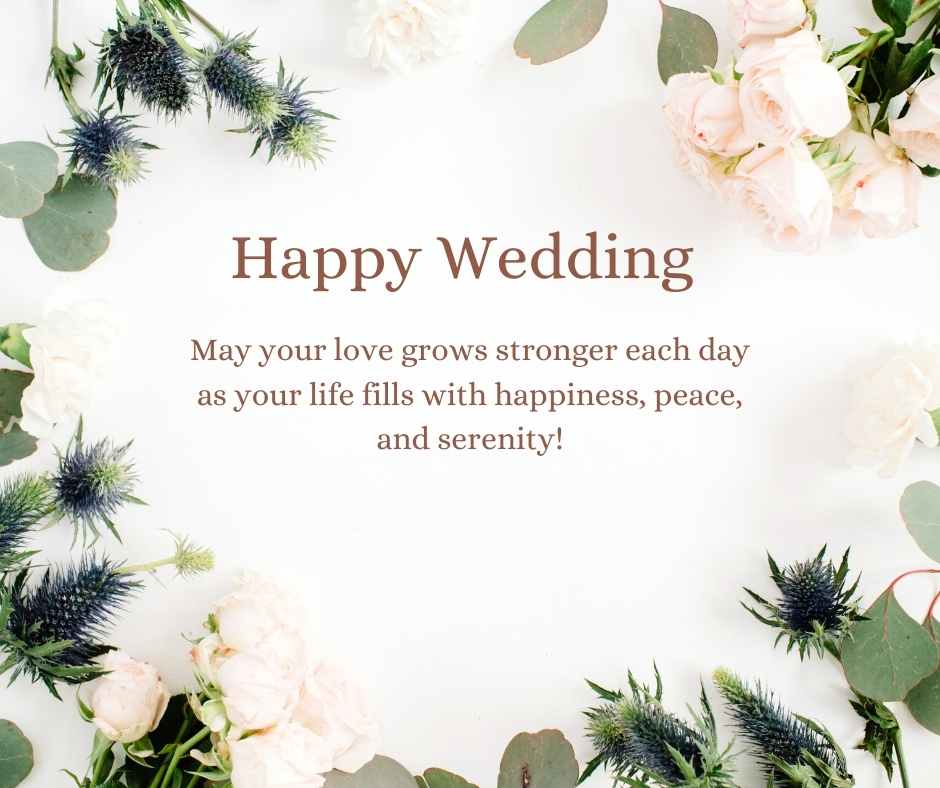 Heavenly Father we come before you to thank you for all you have done and continue to do in our lives and marriage. We come before you today, God, asking for a stronger bond of unity in our marriage covenant. Amen.
Dear Heavenly Father, please bless our marriage with an abundance of joy. We started off strong, and it's our deepest desire that we finish that way. Amen.
God, as you join us today, we ask for your blessings upon this couple as they unite in marriage.
God, help the newly married couple to seek you first before making decisions. Amen.
We thank you, o god, for the love you have implanted in our hearts. May it always inspire us to be kind in our words, considerate of feelings and concerned for each other's needs and wishes.
Lord, be with the bride and groom on this wedding day, and every day and night forward. Amen.
Wedding Prayers for the Bride and Groom
Marriage is a big decision for one's life, even if he or she is intending to marry someone they truly love! With the nerve-wracking ceremonies of weddings, it is easy for the heart to feel restless. So one might want to honor their faith and connect their wedding day to a spiritual experience through praying to Lord Almighty. If you want to utter a prayer that resonates with your beliefs on your wedding day, this section is for you!
Dear God, bless this bond as I am going to marry the love of my life! Make us happy, by your grace!
Thank you for letting me meet my other half, Lord! May you always pour us joy and love!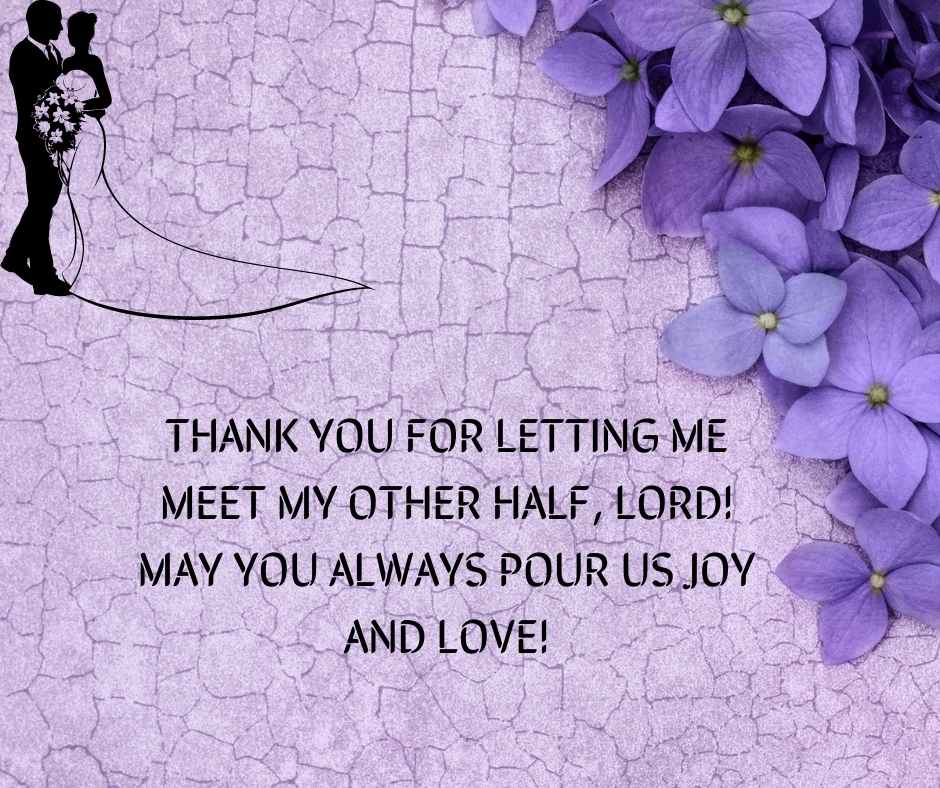 May we always be by each other's side in health and sickness, in happiness and agonies!
As we tie our hearts in one single knot today, we seek your heavenly blessings, Lord Jesus!
My Lord, you have brought me and my beloved into the most special bond. Please keep blessing us through our married life!
No auspicious, holy journey can start without your permission, dear Jesus. Shower us with your love as we become each other's!
Oh Lord, we rest ourselves to you as you purify our sins and guide us towards a bright future together! Let your mercy fall upon us!
Dear God, no gift can be more precious than the amazing life partner you have blessed me with! I wish for nothing but a cheerful, loving, serene life ahead with the love of my life. Oh Lord, usher me to the right decisions and lead me to the ways that are prosperous and just! May your guiding presence never leave our sides!
Dear Almighty, we join our souls today in your name! May this bond be sweet as the summer, fresh like spring, as lovely as the roses, and as unique as your creations! We pray that your heavenly blessings will richly grace our married life with ceaseless charms, long-lasting love, and destined prosperity!
Wedding Prayers and Blessings for a Couple
Newlyweds receive loads of fancy gifts from the guests, but no present is as special, effective, and long-lasting as genuine prayer and blessing! When a couple is celebrating their big day with you, make sure to offer your carefully chosen, meaningful prayer for their happily married life ahead! Your blessings will stay with them for the rest of their lives! If you are struggling to put together the right words, go through the next section to find blessings for a couple!
On the happiest day of your life, may Lord Jesus tie you two in a bond of togetherness for eternity!
We pray that God grants you two patience, goodwill, and never-ending love for each other!
The happiest moments of your lives are yet to come! May God bless this union!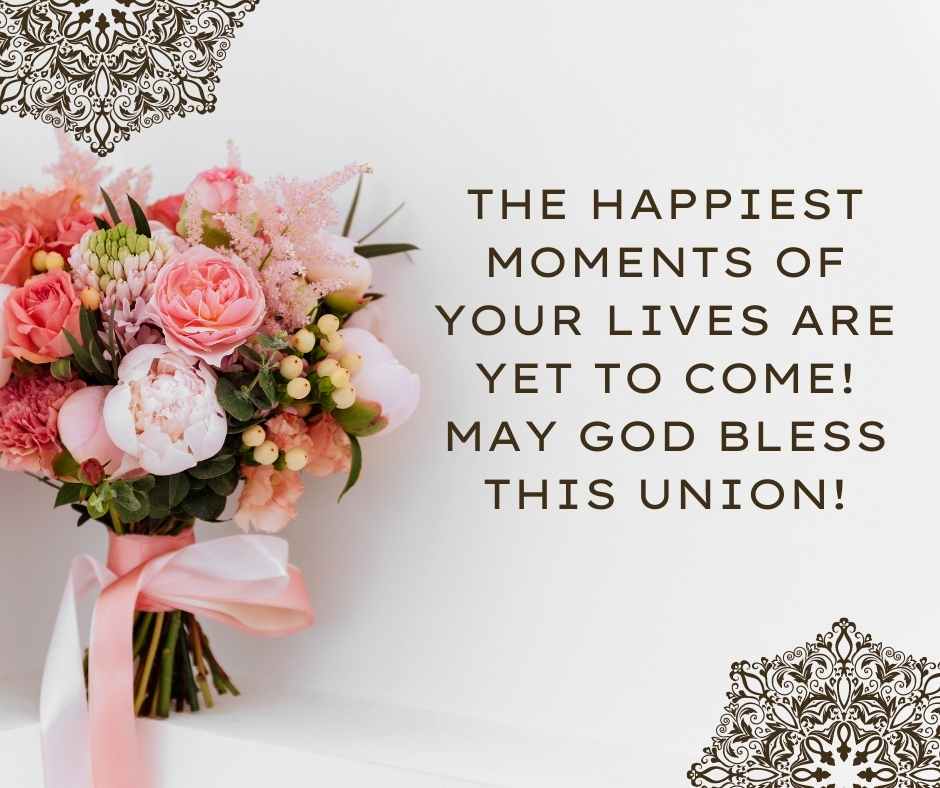 This special day of your wedding is the first step towards a loving journey! I hope you two can always match each other's paces!
Marrying the love of your life is the biggest gift from God! May Lord Almighty flourish your married life with abundant happiness!
I pray to God so you two can find genuine peace in each other's company!
The souls have been tied in a blissful bond of love, so never let the faith falter! May God's merciful gaze be upon you!
Today is the beginning of a life of togetherness, fondness, and compassion! May the love never weaken, the trust never shakes, the smiles never fade and the happiness never cease! Commit your soul and heart to each other and Lord Jesus will never stop showering his generous blessings and mercy upon you two!
A gorgeous couple like you is absolutely meant for each other! We are so glad that you found your way back to the one you want to spend your whole life with. We pray to God that he blesses this holy bond and protects you two from every harm, every evil eye, and every bad luck.
Wedding Prayers and Blessings from the Bible
Be completely humble and gentle; be patient, bearing with one another in love. – Ephesians 4:2
Husbands, love your wives, just as Christ loved the church and gave himself up for her. – Ephesians 5:25
Therefore, what God has joined together, let no one separate. – Mark 10:9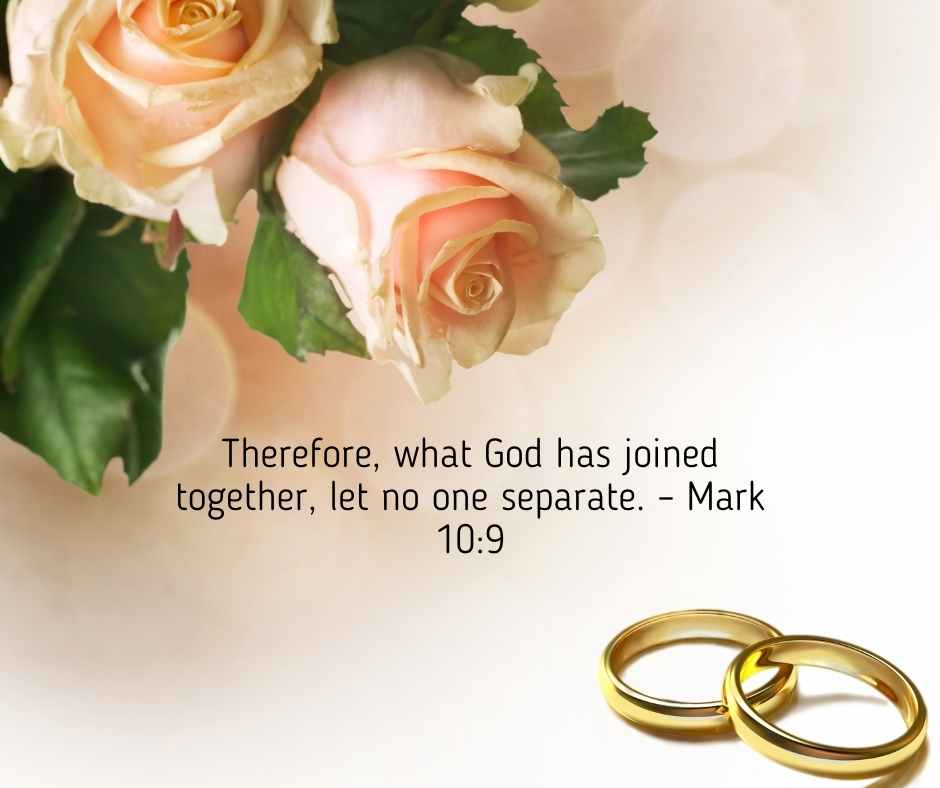 Therefore, a man shall leave his father and his mother and hold fast to his wife, and they shall become one flesh. – Genesis 2:24
As the Father has loved me, so have I loved you. Now remain in my love. – John 15:9
Above all, love each other deeply, because love covers over a multitude of sins. – 1 Peter 4:8
Love must be sincere. Hate what is evil; cling to what is good. 1Be devoted to one another in love. Honor one another above yourselves. – Romans 12:9-10
If you keep my commands, you will remain in my love, just as I have kept my Father's commands and remain in his love. I have told you this so that my joy may be in you and that your joy may be complete. – John 15:10-11
And now these three remain: faith, hope and love. But the greatest of these is love. – 1 Corinthians 13:13
Traditional Wedding Prayers and Blessings
Dear Lord, I want to honor You completely with my marriage. Help me to remain dedicated to praying over my relationship with my husband. In Jesus' Name, Amen.
Blessed are you, O Lord our God, for you have created joy and gladness, pleasure and delight, love, peace, and fellowship.
Heavenly Father, help me to be a good role model for the newlyweds. In the name of Jesus, Amen.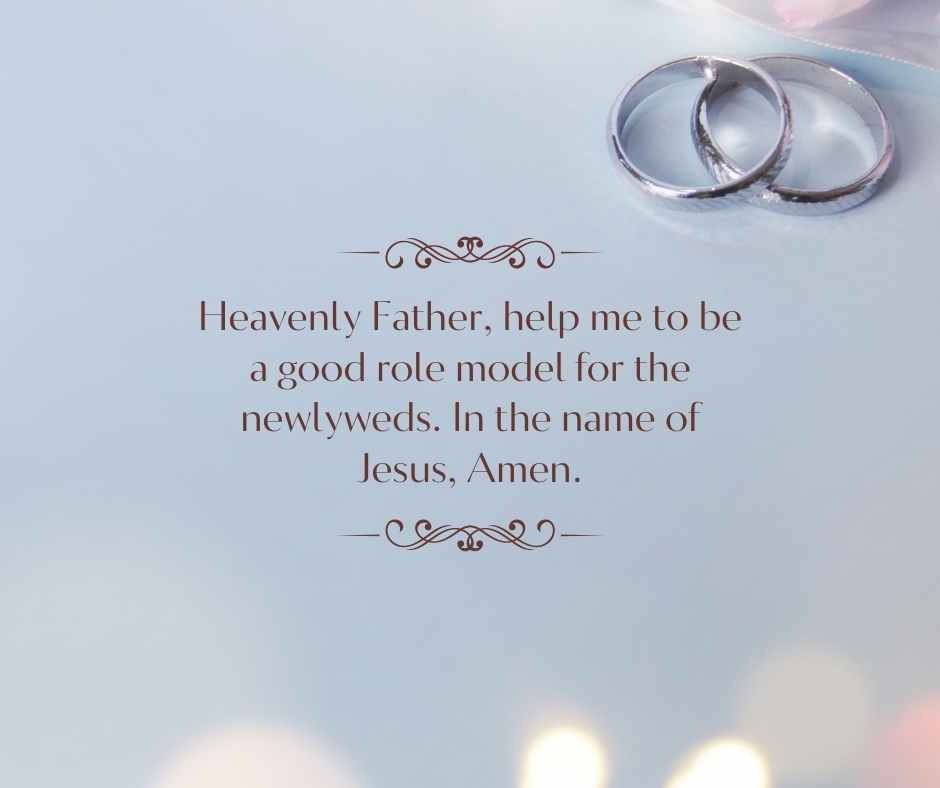 Lord, I pray for your peace to rule richly in my marriage and in my home. You said in your Word that the peace you give passes all understanding. I receive that peace right now. I choose to let the peace of Christ rest in my heart. Amen.
Lord, we thank you for uniting us in marriage today. The joy of our love is a priceless gift from your hand. Just as you keep your covenant of love to us, may we keep our vows to one another and to you. Make us like Jesus, who "is trustworthy in all he promises and faithful in all he does.
Lord, this wedding day marks the beginning of a journey you planned for each of us before time. Our lives are in your hands, and we commit to follow wherever you lead. Knit our hearts together so we follow you as one. Amen.
Dear Lord, teach us to work as a team so we can overcome every difficulty side by side. Fill us with mercy and compassion when we suffer grief and loss. Let us find greater strength in life together—and with you—than we could know alone. Amen.
Dear God, we praise you for your love and faithfulness. We thank you for huge grace. We thank you that you give us the power to love well. Thank you for my spouse. Thank you for the gift of marriage. Thank you that you're for us. Please fill our marriage and lives with truth and cover it with blessing. Amen.
Let their love for each other be a seal upon their hearts and a crown upon their heads.
Dear Heavenly Father, bind us together in unity, and use our differences to strengthen that bond. In the name of Jesus, we pray. Amen.
Lord Jesus, I pray you would be glorified in my marriage. Wherever I find myself, in good times or bad times help me to reflect your character. In faith, I wait for change and healing in my marriage. Meanwhile, I lean on your strength and believe you will guide me, give me wisdom and strength so I can honor your name.
Father, please show the bride and groom how to love each other in happy times and in stressful times. Remind them of the promises made in their new covenant with each other. Amen.
Let all their days together be happy and all their words to each other be sweet. Amen.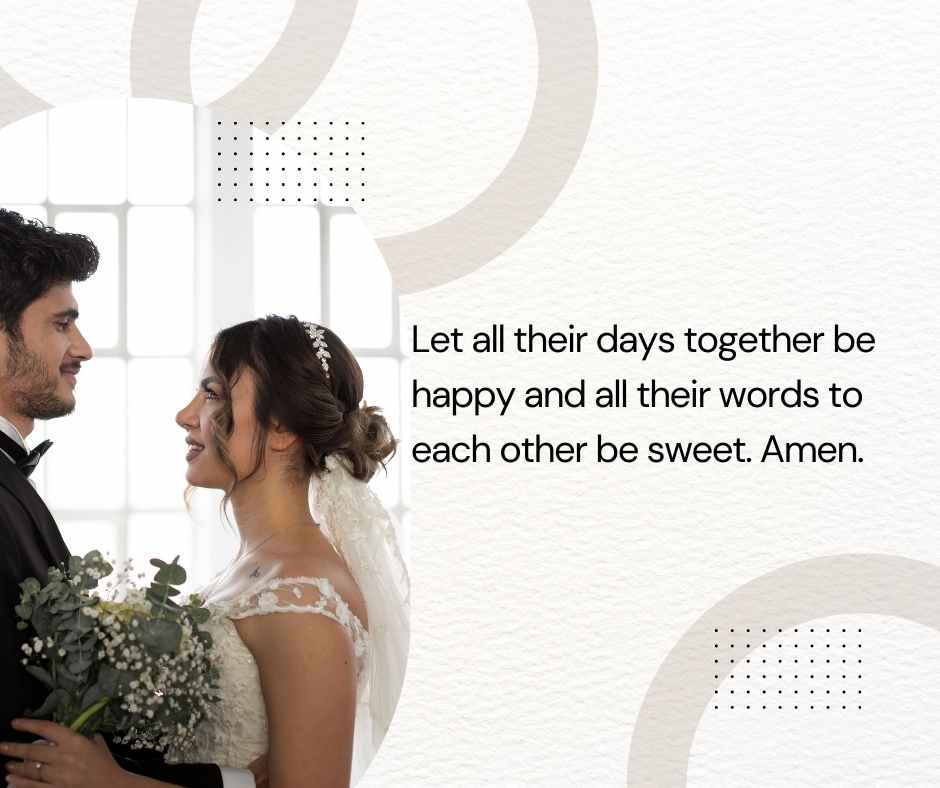 Dear God, we ask for your blessings upon this man and woman, as we celebrate this momentous occasion in their lives.
Lord, help us to remember when we first met and the strong love that grew between us. Help us love in practical ways so that nothing can divide us. May our words be kind and our thoughts gracious. Amen.
Dear God, one who gives us the longing for love and the capability of loving, we give thanks to You for BRIDE and GROOM, for their open hearts and willing spirits, and for the love that they embody here in our presence.
Dear Lord, bless and preserve my cherished husband, whom you have given to me; let his life be long and blessed, comfortable and holy, successful and free. Let me ever be a blessing and comfort to him, a sharer in all his sorrows, a consolation in all accidents and trials of life; make me forever lovable in his eyes and forever dear to him; unite his heart to mine in fondest love and holiness, and mine to him in all sweetness, charity, and submission. Amen.
Heavenly Father, we acknowledge Your blessing upon this marriage and we give thanks that Your spirit is with the Groom and Bride. Bless this beautiful couple in all their days to come with a joyous life, deep love, bless them with peace and wisdom that they will need to fulfill their promises made here today.
O God, you established and blessed marriage, and you use it as a picture of the spiritual marriage and unity between Christ and his Church.
Conclusion:
I hope you like Wedding Prayers and Blessings. If You feel helpful in these Wedding Prayers and Blessings, then please share this article with your friends and family.